Printable Checklist to Evaluate Energy Management Solutions
You've done all your research, and now the time has come to have "The Conversation" with your potential energy management software provider. Or perhaps you're still searching for your perfect match? These 10 questions can help you benchmark different providers.
If you already have an aM&T software system in place, ask these essential questions to your current EMS provider. To make it even easier, we created a handly and printable checklist. Download it for free by completeing the form to the right.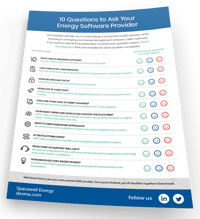 Print to start evaluating the different solutions on the market!
10 questions to make sure you go into the conversation well-informed
Avoid smokescreen sales pitches - this checklist keeps the conversation stuck to the facts!