Guide for Facility Managers and Real Estate Companies that Want to Save Energy
The fact that the real estate market is a volatile market today is nothing new. Price fluctuations in the real estate market for office and industrial buildings is a big issue for the managers of large building portfolios.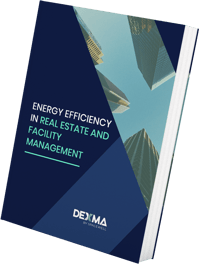 The most savvy have realised that focussing on energy efficiency is the key, as energy demand continues to rise.
According to IFMA 2016 data, the facility management sector represents 6.4% of Spanish GDP. In addition, they calculate that companies can obtain savings of 20-30% thanks to the facility manager.
For this reason, we have decided to create a guide that helps the real estate and facility management sectors to manage energy efficiently in their portfolios of buildings, achieving energy savings in the face of ever-increasing energy prices.
What you will learn with the Energy Efficiency Guide for Real Estate and Facility Management Companies:
What are the energy challenges being faced by the Real Estate and Facility Management markets.

How to analyse the energy consumption of your Buildings Portfolio.

How to detect the potential savings hidden in the buildings in your portfolio.

You will discover 8 Advanced Energy Analysis Tools for your Buildings Portfolio.

And how to integrate Energy Analysis with the control of your Buildings Portfolio.