A Global Guide for Energy Managers
Although they may not be the most exciting part of your job as an energy manager, energy efficiency laws, policies and regulations have a major impact on your job.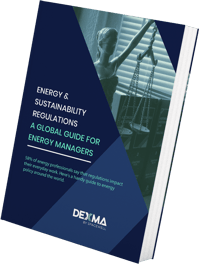 In fact, they might even be the reason you have one in the first place!
Top energy managers keep up with drivers energy efficiency laws and regulations where they live.
Are you up to date? If you need a quick refresher, this is the essential guide for you!
Here's a sneak peek of what's inside:
More than 20 country profiles giving you a quick overview of energy efficiency legislation.

Learn about consequences of non-compliance and regulatory incentives to stay ahead of the game.

Infographics explaining complex regulatory schemes like the EU Energy Efficiency Directive.