Report on Energy Management in 2021
The energy sector continues to evolve rapidly, adopting new technologies and constantly innovating.

Given the current focus on being more efficient to cut costs and consume fewer resources, energy efficiency has become a major issue for both energy-related companies and other sectors.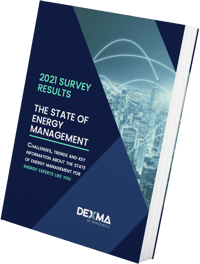 We have surveyed over 400 energy professionals to better understand their main professional challenges, concerns and interests and now share the results with you.

So why should you read this report? Participants work for a variety of companies, including Energy Services Companies, Utilities, Facility Management and many more. You'll be able to compare your own knowledge and perceptions with the survey results.
Don't miss the report to find out the details. You will find information on the key players in the industry today, as well as the challenges and trends they face and their plans for the future.

Fill in the form on the right and access the report.